20+ Products Your Baby Registry Needs
Hi, mama! If you're looking for the best baby registry products to help you survive the first three months with your newborn, you've come to the right place. Below is a roundup of our favorite baby registry items from when our little one was a newborn.
Any product that makes a mama's life easier and a fussy infant happy are wins in my book! I hope they will be in yours, too. These 20+ products your baby registry needs are broken out into categories based on what our little ones do at this stage: Sleep, Eat, Poop and Play!
This post contains affiliate links for which I may receive a small commission. I only recommend products we have used and 100% stand behind. Thank you in advance for supporting me and my family!
Before you continue reading, here is a Time Saver Tip!
Before you dive into this article, if you haven't yet created an Amazon Baby Registry, pin this article so you can come back and start here. That way, you can click on the buttons below and either research them, buy them, or add them right to your registry.
Amazon offers some great incentives. Check out all the reasons why I loved our Amazon baby registry in this post (see #5). But I'll save you time and tell you my top reason: You get coupons for TWO orders up to $2,000. That's A LOT of baby products!

Best Baby Registry Products for Sleep
How we crave every little bit of sleep we can get during these first few months. I went from needing a solid eight hours of sleep to function to somehow thriving on short, uninterrupted stretches.
When we got our first four-hour stretch, I had never felt more energized. We had out-of-town family coming in for the weekend. I was so motivated to check off more house projects so we spent the day painting doors while our little one napped!
But I digress.
We just want to set our babies up for the best sleep success. Help your little one (and you!) maximize those precious ZZZs with the following baby products for their sleeping needs.
Bassinet or Pack n' Play
The American Academy of Pediatrics recommends rooming in with your baby until one year old to reduce the risk of SIDS. A lot of parents will opt to transition their babies to their own rooms sooner based on what's right for the family. But in the meantime, you'll need a safe place for baby to sleep if it won't be in his or her crib.
We originally intended to use this pack n' play in our bedroom, but it ended up downstairs in the play room as a changing/nap station. I LOVED all of the different configurations so we didn't have to buy each piece separately. We used the portable bassinet and lounger around the house daily. (And the changing station almost hourly!)
For our bedroom, we went with a similar Halo Bassinet to this one:

This bassinet is upgraded with different legs and the swivel feature, which is one thing I wish we had. I loved how it could slide up over the mattress. The side folds down so it was extremely convenient to get her up and out for night nursing. I didn't even have to leave the bed! It also felt like we were bed sharing, but doing so safely. Another convenient feature is the side pocket. I used it most frequently to store burp cloths.
We knew it would be a temporary solution, so we opted for the least expensive option. I don't think we missed anything by not having the added bells and whistles of vibration and sound. The default bedding served its purpose, but I soon stocked up on these super soft, cute sheets to have extra on-hand.
Blackout Curtains
The darker you can make your room for naps, the better. Again, the goal is to recreate the feeling of the womb! We have these curtains from Target in our Bahamian-inspired nursery, but any blackout curtains will do.
Hatch Baby Sound Machine
Did you know it's actually loud inside your womb? Baby is used to hearing the loud noise of rushing blood traveling to the placenta. It seems counter intuitive to make a baby's sleep environment noisy, but a good sound machine will lull your baby into dreamland.
We have two sound machines that I love dearly. This first one from Hatch Baby is in the nursery and comes with us when we travel overnight. It isn't just a one-sound machine. You can choose from a variety of lullabies, nature sounds and white or pink noise. Choose a night light color to match your preferred sound, too. You can even adjust the brightness level. As a bonus, it also links to your phone so you can control the features remotely. You can program your favorite nightlight colors and sounds, and the time you want them to start and end.
This next sound machine from Marpac is a portable, rechargeable option perfect for on-the go. We keep it in the car near her seat for those fussy car days and also use it in the stroller when we're out and about running errands. It recharges via a USB cable (which I've learned the hard way to keep in the diaper bag).
The Comfiest Jammies
If there is one thing I learned from our eczema journey, it's that 100% cotton clothing is the best option for delicate baby skin. It is too common to find synthetic blend (aka polyester) baby clothing that doesn't allow your little one's skin breathe. Nugget's closet is primarily made up of these Burt's Bees comfy jammies. The zipper is much easier than snaps for night time diaper changes. And, there are so many adorable patterns for both boys and girls!
Swaddle
Do you really need a swaddle? Yes. Imagine being nice and snug in a little space and then coming out into the world with all this space to move! It can be a bit overwhelming to your baby. Recreating that snug feeling is key to helping your little one sleep.
But what kind of swaddle to get depends on your baby. Let me share a secret with you: follow your gut on this one, until your gut does you wrong. Our little one came out of the womb with her arms up and refused to be swaddled arms down. So, we bought our little Houdini this sleep swaddle when we first came home from the hospital and she slept well.
Fast forward six weeks to when I was desperate for her to nap anywhere but in my arms. I took the Taking Cara Babies Newborn course and Cara recommended an arms down swaddle, so I switched her to this one for naps. It worked! She was napping solid stretches.
But then, her night sleep took a turn for the worse. So, we did what was working and abandoned the arms up swaddle for night, too. But then, despite her disdain for tummy time, she started rolling over right as she hit the three month mark! We tried to go cold turkey into a regular sleep sack, and it was the most miserable two weeks of our lives. So now she sleeps soundly in a contraption my husband likes to call the marshmallow suit.
Moral of this story: Follow your gut. If your baby isn't interested in an arms-down swaddle and is fine sleeping in another type of swaddle, use what your baby prefers!
I'd like to take a brief intermission to say …
How well (or poorly) your baby sleeps does not define how great of a parent you are!

Don't let others try to convince you your baby should already be sleeping through the night if he/she is not ready.
But maybe you are trying to get your newborn to understand the difference between days and nights. Or, maybe you are trying to get your baby to sleep anywhere but in your arms. Maybe you're trying to stretch those minutes between each waking. Whatever little goal you have set for your baby during these first few months, you are doing great mama! You know your baby best, so try not to compare yourself to any other mama or baby.
But maybe you're looking for a little support in this area. That's when this next recommendation comes in …
Taking Cara Babies Newborn Sleep Course
Full disclosure: Everything I mentioned about not feeling judged about how poorly your baby sleeps stems from the success other people have had with this program. As a result likely of our own doing, our little one isn't sleeping through the night yet. This is one of the achievements this program flaunts for measuring success (which can make you feel kind of crappy if your babe isn't there yet). We could have been more diligent in following the outlined recommendations earlier on that are clearly defined step-by-step. But she will get there when she gets there!
So why am I recommending Cara's classes? Because the tips I learned were very useful, especially with getting her to nap well. (They're also proprietary so, as much as I would like to, I can't just share them with you.)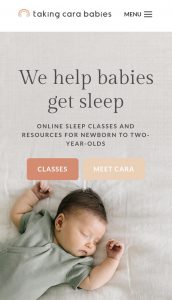 I wish I found Taking Cara Babies before our little one was born. I definitely wouldn't have defaulted to breastfeeding to get her back to sleep at night. (I just assumed waking up meant she was hungry!) It really does help you set a foundation for longer sleep stretches and it's breastfeeding friendly.
Anyway, you may even recognize Cara because she was recently featured on Good Morning America! You can check out her Newborn and 4-5 Month class bundle for a discounted rate for under $100 here. (Or, if you don't want to spend money, follow her instagram account for equally useful tips and tricks and teaser content.)
Best Baby Products for Eating (and Suckling)
Wubbanub Binky
I just love these cute little animal pacifiers. Some mamas are concerned about using a binky/pacifier/soother too early, fearing nipple confusion. I was the same way! Let me clear a common misconception for you that my nurses shared: There is no such thing as nipple confusion. There is such thing as nipple preference. But the likelihood that a baby would prefer a binky to its food source is generally nothing to be concerned about.
There are always exceptions, though.
You may wish to avoid using a binky until your baby is well-established with feeding or the latch is perfected. That's perfectly fine and 100% your decision. In my case, our little piranha required a binky early in those first days to help satisfy her strong urge to suck. She was doing a number on my poor milk receptacles. My milk came in strong. She was latching well to feed. So, our Mother-Baby unit nurses recommended the binky as a way to help calm her extremely strong gummy grip.
Her favorite binky is her Giraffe wubbanub. Isn't she cute?! Her giraffe goes everywhere with us!
Here is the meat of your post. You'll break down the problem into a list of easy to accomplish steps to help your reader.
Tip 1: [do this]

Short paragraph answer
You can also use bullet points.
This makes it easier for your reader to get the information they need from your post.
It also pulls the reader through the post and breaks up the sea of text.
Include demonstration images where you can.

Tip 2: [do this]
Tip 3: [do this]
Tip 4: [do this]

Continue until you've completed all the steps.
The Last Thing You Need to Know about [problem]
Summarize the post in 1-2 key take away
Always end your posts with a question to your reader. You want your readers to engage, share and leave comments with your articles. Whenever you can interact with your readers, do it, it builds trust and a relationship!
Best Baby Products for Diaper Changes
Pampers Pure Diapers & Wipes
Our skin was very sensitive as babies so we chose a diaper brand for diapers and wipes that would be free of non-essential ingredients. Pampers Pure diapers are free from bleach, fragrances, parabens and latex. (Our next favorite brand is Up & Up from Target which are super absorbent for overnights!)
P.S. Regardless of brand, I highly recommend a diaper raffle or wishing well at your baby shower if you have any input. We are STILL using diapers from our stash, as we received a variety of sizes!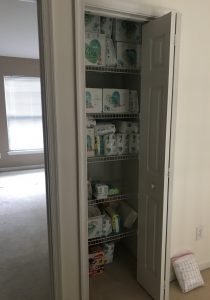 Ubbi Diaper Pail
Practical, but necessary, is a contraption for holding all of those messy diapers. This Ubbi pail is great for keeping the poop stench at bay. We keep one upstairs in the nursery and another downstairs in the playroom.
Best Baby Products for Play
Most of the 0-3 month time frame newborns spend acclimating to life on the outside of the womb. The little blobs of cuteness don't do much. But then smiles become deliberate. Coos become playful responses. And a whole new world of exploration begins!
Around this time you also are usually desperate for ideas to keep baby awake that don't involve medieval torture methods like cold washcloths! So, here are a few of our favorite baby products to keep your little one occupied and stretch those wake windows.
High-Contrast Board Book
I struggled with finding ways to entertain our little one during the first few months. After all, she mostly snuggled up in our laps and I was perfectly content to stare at her. But she couldn't just sleep ALL day. So we needed to find creative ways to keep her awake because that baby would sleep like a rock!
These high-contrast board books are a great way to engage your little one. They feature a bunch of black and white images and are small enough to fit in a diaper bag (or your pocket) for on-the-go.
Manhattan Toy Winkel Rattle & Sensory Teether Toy
This ball will occupy your little one during doctor appointments, family dinners and more. The little rattle inside brings out their curiosity and the rings are perfect for chewing. As a bonus, this toy promotes clutching and two-handed play, and has won awards for infant development.
Fisher Price Piano Play Mat
Liv has always loved to "stomp, stomp stomp" her legs. I saw this toy in Walmart one shopping trip with her Mom-mom and I was thrilled to find a play mat toy that would both keep her attention and encourage her love of kicking! The mobile portion can be positioned several different ways and the piano part can come apart to grow with your little one.
Lovevery Play mat
If you prefer a more muted play mat with natural materials, LOVEVERY has a mom-favorite option.
LOVEVERY also offers customized subscription Play Kits which I've found to be a really helpful option for curating age-appropriate educational toys without giving it much thought. (I wish I had subscribed sooner!)

ONE LAST RECOMMENDATION BEFORE YOU GO
One thing I did a ton of research on was infant car seats and strollers. I wanted a travel system, but I didn't want to sacrifice safety (carseat) or functionality (stroller). Our Britax B-Free Travel System with B-Safe Ultra Infant Car Seat has been our most-used big ticket registry purchase. Two neat features I love about the stroller: a TON of storage. I use this stroller for small shopping trips frequently to avoid putting Nugget in store carts. You can even access the bottom storage compartment from the front, too!
That's all for now, mama! Keep an eye out for the next roundup of 3-6 month favorites. What are some of your favorite baby registry products? Tell me in the comments section below!