Welcome back, mama! In this article, I'm sharing my 5 favorite low-maintenance herbs even busy moms can grow.
And, as a bonus, I'll share an amazing resource that will increase your chances of success with any of your gardening endeavors. Read on to learn more!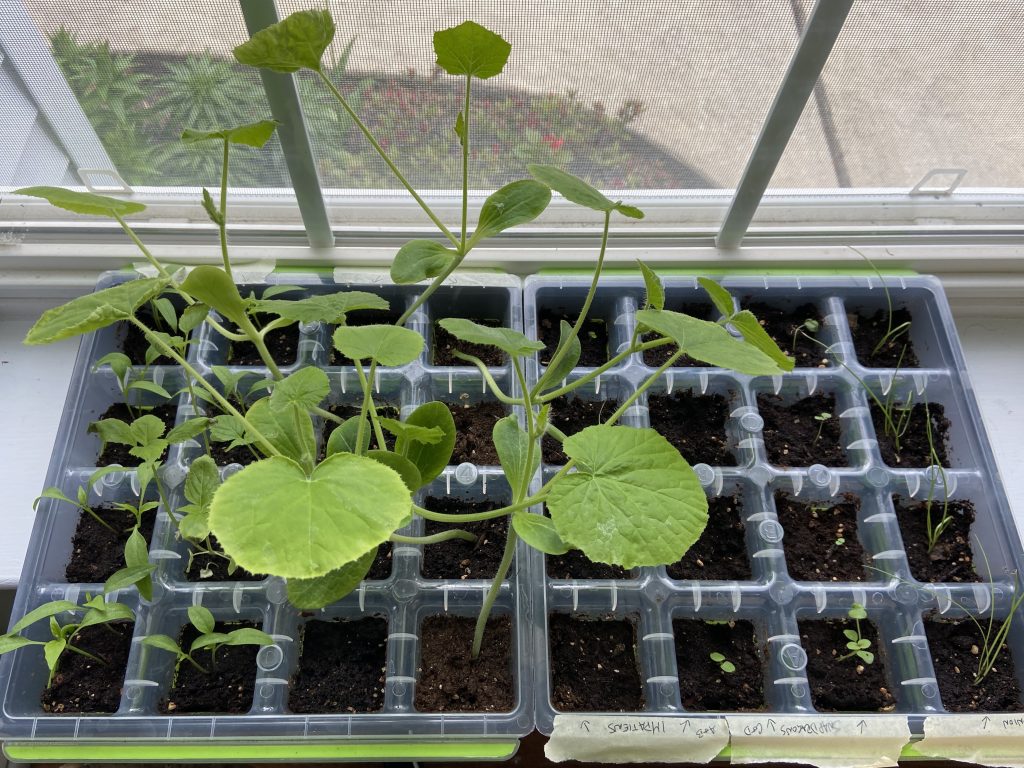 This post contains affiliate links for which I may make a small commission should you choose to make a purchase. Thank you for supporting my family!
Do herbs require a lot of maintenance?
Beautiful flowers and luscious gardens make my heart happy. In my head I have all of these lavish ideas about growing a garden like my mom has. (She has a greenhouse and everything!) If the groundhogs and deer don't get to her garden first, she will usually have enough food to feed a small army.
But I'll be the first to admit that having a garden like mom's is a pipe dream. Because, try as I might, I do not have a green thumb. It's a running joke between Hubs and me that I plant the plants and he keeps them alive. I may forget to water things on occasion.
Needless to say, I was THRILLED when I successfully grew all of the herbs I'm going to tell you about below. Amazingly, some even came back year after year! And I did nothing to make that happen. It was magical.
Why should you grow herbs?
I loved having fresh herbs right at my fingertips when cooking. But you might be wondering why you should take on one more thing to keep alive.
This year, I think we all have good reasons to consider growing some sort of food. Food shortages are popping up across the country. There is general uncertainty around our food supply. And social distancing is limiting our ability to just pop on over to the grocery store (without standing in what seems like an amusement park line).
Now is a good time to consider starting a garden. Or, at least to try your hand at growing a few herbs and see how it goes.
Feeling ambitious and want to expand beyond herbs? You'll definitely want to check out the awesome resource I mentioned. Keep ON Reading!
Low-maintenance herbs even busy moms can grow
OK, mama. Here is my list of top five low-maintenance herbs even busy moms can grow. If you have no green thumb and no time for complicated maintenance, these are definitely the herbs for you.
Mint – I love growing mint. It is quite literally the easiest herb to keep alive if you can remember to water it. You'll want to plant it in its own container because mint is invasive. You'll be shocked at how quickly it grows. Mint is best grown in a spot that receives morning sun. And you'll want to keep the soil evenly moist. To keep it from growing wiry and getting out of control, cut it back regularly (use it often) so it can grow back bushy. I have gotten starter mint plants both at my local hardware store's garden center and in the grocery store. As your mint grows and gets larger, you can cut it back or replant it in a larger container.

Why have mint on hand? It's great for several summer drinks such as in mojitos, iced tea, and water, and chopped up on watermelon (my favorite).
Basil – Basil is another low-maintenance herb that will grow nice and luscious if it's happy. Like mint, basil loves sunlight. Basil does not thrive in overly watered soil so you'll want to make sure it is potted in a container that offers plenty of drainage. I usually grow my basil starting with the "edible garden" basil from the grocery store. (It's the basil that comes in the cellophane sleeve with the roots still attached.) Just pop that in some soil and watch it take off!

Why plant basil? It's great in salad dressings like this one, with deli meat on sandwiches, torn up and thrown into pasta dishes or on pizza. Tip: Use excess basil to make pesto.
Rosemary – Rosemary is a very hearty evergreen-type herb that can grow up to three feet tall! It loves the sun and plenty of drainage, so keep that in mind when choosing a pot and location for it to call home. You'll want to water it thoroughly and then let it dry out completely before watering it again. Rosemary not only smells great, but it also is a natural bug repellent.

How do I use rosemary? My favorite way to eat rosemary is with chicken and pork. Did you know that you can use the rosemary stems as skewers? Rosemary is also great for marinades, in stews, and for seasoning side dishes such as roasted potatoes.
Thyme – Thyme (pronounced "time") is a Mediterranean herb best used in savory dishes. It pairs well with rosemary and oregano. Thyme thrives best the more you leave it alone. What's not to love about that? Because it's a Mediterranean herb, it thrives in a hot location (full sun) and likes to stay relatively dry. Well-drained soil will serve this herb best.

Why grow thyme? Thyme, like rosemary, pairs nicely when cooked with lemon. It's great for chicken or potatoes. It goes very nicely in soups and stews. Thyme also has been known to have antibacterial and antiseptic properties.
Oregano – Oregano smells so good and reminds me of all my favorite Italian dishes. I planted our thyme and oregano in the same container, and they seem to make good friends. You'll want to wait to water oregano until the soil is dry to the touch. And, like the others, oregano also loves the sun. (If you grow it outside and you get regular summer rain, that's usually enough water to keep it happy!)

How can I use my oregano? Add it to any Italian dish, or my favorite way: in eggs!
There they are, mama. Five incredibly easy herbs even a busy mom can grow.
BONUS HERB: If you're looking for an even number, the sixth herb I would recommend would be parsley. It didn't make the list of five because it requires a bit more TLC as it likes to grow in more temperate weather (60-65 degrees) and prefers morning sun or partial shade. But if you're looking for an indoor plant to keep on your kitchen windowsill, or are willing to keep an eye on it and water it more regularly, then parsley is a great low(ish)-maintenance herb to have around. Unlike the others, parsley does not come back year after year, but it will grow back as you use it throughout the season. Parsley is a great garnish on most dishes and works especially well with chicken dishes and in Italian meals.
About that amazing resource
If you are thinking about expanding beyond herbs to start a garden, you must get your hands on this Gardening and Sustainable Living Ultimate Bundle. Why am I recommending this? Because if you're going to invest your precious "me time" time in building a garden, you want it to be successful. I want you to be successful. Gardening is hard work!
Sifting through how-to information online on any given topic can be a little overwhelming, right? I notoriously keep way too many tabs up on my internet browser that I do nothing with for this very reason.
As an affiliate, I got access to the Gardening and Sustainable Living Ultimate Bundle early and I've been referencing it like crazy. Hubs and I decided to expand beyond our usual herbs this year. We are trying zucchini, onions, jalapenos, peppers, and garlic.
Our garlic effort would have been a complete flop if it wasn't for one of the e-books in this bundle that taught me step-by-step what I need to know. (Garlic actually needs to be planted in the fall and needs to take root before going dormant in the winter to be ready for spring.) #whoops
Also, did you know garlic is primarily grown in China? Planting season was disrupted by the COVID-19 outbreak. I highly recommend adding garlic to your "things to grow" list if you're a garlic lover. It's likely to be added to the shortage list very soon.
Bloggers and topic experts submit their best practices, e-books, e-courses, tips, tricks, planning printables and more. Ultimate Bundles chooses the best information and creates one bundle for you to purchase at a discount. I can't list all of the great information you will get in this bundle because it is plentiful. But here are some of the topics this gardening bundle covers:
Compact gardening (gardening for small spaces)
Using herbs to cook and clean at home
Healthy soil
Attracting hummingbirds
Natural pest control
The art of sourdough
Trello veggie garden planner
Easy canning recipes
Dehydrating masterclass
Food preservation
Gardening the easy way
How to grow garlic
Fall gardening
How to make money homesteading
Think of this resource as literally everything you would need to successfully plan and plant your garden, and store the food you grow.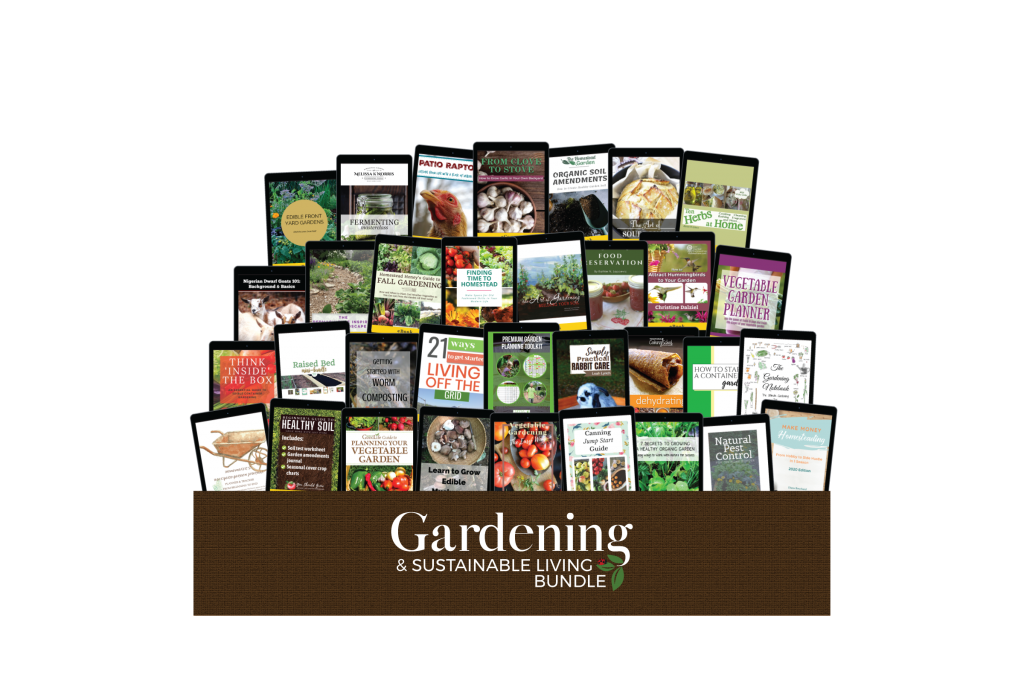 If you are hesitating …
Confession: I did, too. You might be thinking that you'd never use all of that information. You are a busy mama and you don't have time to digest all of that info. You're 100% correct. There's no way I do either. I personally have no interest in homesteading. (My mother-in-law, however, totally does!)
But then I saw that most of these resources average $20+ individually. And, quite frankly, I'm a sucker for a good deal. The cost is less than what we pay for fresh fruits and veggies during an average grocery store trip, so it was a no-brainer to get this resource to help us successfully grow a good number of our household staples.
This is not the first time I've purchased an Ultimate Bundle either! Long before I became an affiliate I took advantage of this bundle. I loved it so much that it is the reason why I became an affiliate in the first place!
Budgets are tight these days and disposable income is limited. So I only encourage you to take a peek at what the Gardening and Sustainable Living Ultimate Bundle can offer your family. More than 5,000 people have loved it. Maybe you will, too! 🙂
What are you most looking forward to growing this year? Tell me in the comments section below.
Happy gardening, mama!

P.S. Like this post? You can check out my other posts here. Follow me on Instagram here. Oh! And don't forget to subscribe to receive my blog articles right to your inbox! 🙂